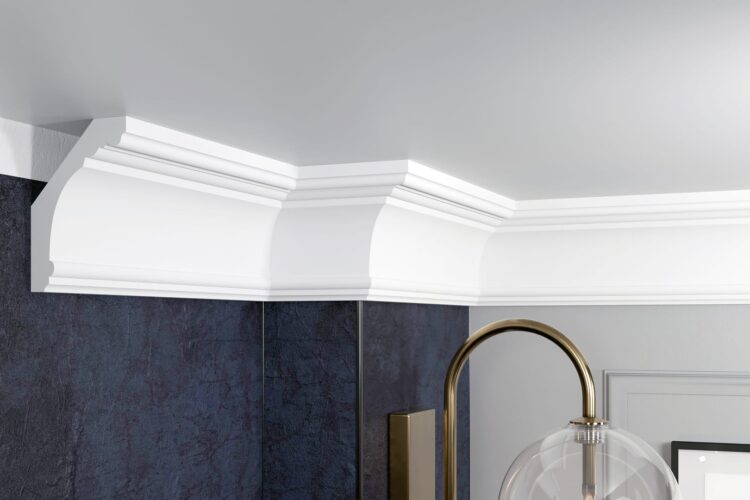 Decorative XPS foam moldings for interiors, also known as interior stucco, are decorative elements installed directly on walls or ceilings. Their function is to enhance interiors' style while concealing elements that are meant to remain hidden. They can be customized to fit various styles, from classic to modern, offering a quick and budget-friendly way to uplift a room and visually enlarge its space.
Enhancing Interiors with XPS Foam Moldings for Classic and Modern Interiors
Interior stucco is a set of connected decorative elements that create a three-dimensional ornaments on walls or ceilings. These moldings can be adapted to any style, from classical through glamorous to modern. By selecting the right decorative moldings, you can completely transform the character of a room and visually expand it. This is a quick and cost-effective solution for concealing wall irregularities or hiding wires and pipes. Polystyrene moldings are available in various patterns and sizes, allowing for installation on uneven or curved walls.
Interior Stucco: Wall, Ceiling, and More
Installing or replacing interior stucco is a quick and easy way to transform a space without the need for costly renovations or wall demolition. You have various types of moldings to choose from, each designed for specific purposes and dependent on the installation location:
Ceiling Moldings: installed near the ceiling, adding an elegant touch to the room.
Baseboard Moldings: placed near the floor, they provide a finished look to the lower part of the walls.
Wall Moldings: applied directly to the wall surface, they can create appealing patterns or frames.
Crown Moldings: these moldings are perfect for enhancing the aesthetics of curtains and drapes.
Lighting Moldings: designed to accommodate lighting fixtures, they add a unique touch to your interior.
Other decorative elements (not just moldings) that fall under interior stucco include cornices, pilasters, rosettes, and 3D panels. All of these elements can be attached to wall and ceiling surfaces to create ornate compositions.
Is Creating XPS Foam Moldings Complicated and Expensive?
Nowadays, interior stucco is typically crafted from extruded polystyrene (XPS) foam. This material boasts a smooth surface, durability, lightweight properties, and ease of installation. Expanded polystyrene is also flexible enough to withstand stress during installation, which is crucial for dealing with curved or uneven walls. Decorative moldings made of XPS foam are originally snow-white and can be easily painted in the color of your choice. The material's properties and affordability make it an excellent alternative to delicate gypsum decorations.
For creating decorative moldings, even with intricate patterns and details, we recommend the use of the LYNX TERMCUT U foam cutting machine. It's user-friendly and exceptionally precise CNC hot wire cutter. With its help, you can:
Prepare your design in vector graphics.
Automatically convert data.
Adjust device settings and send data for cutting.
Automatically arrange elements on the material to optimize space usage and minimize waste.
How to Cut XPS Foam Moldings: Step by Step
Start by preparing your decorative molding project. You can design the layout in the LYNX TERMCUT U plotter software or import it from an external database. If you wish to save your project in the database, you have the option to create your collection of designs for future use.
Next, use TERMCUT software to lay out the elements on the material and start automatic data conversion. The program will send the data to the machine, allowing you to control the cutter. This is where the cutting of the designed shapes begins. The machine uses a hot wire for this purpose. Once the wire is set up in the plotter, simply place the material at the machine's base and position it for cutting.
LYNX TERMCUT U is the only machine on the market with built-in cutting parameters that can be quickly selected from a drop-down list. After selecting and verifying all settings, you can start the cutting process. Once completed, remove ready elements. Cutting multiple moldings with the same shape is straightforward – just load a new material and run the machine again. You only need to modify CNC cutter settings when changing the molding design.
The decorative moldings prepared with the plotter are precisely cut to predefined lengths. This allows for optimal material usage without generating waste and eliminates the need to trim the moldings before installation. As a result, project completion is quicker, and material savings are noticeable.
How to Install Decorative Moldings?
To install polystryrene wall and ceiling moldings, you only need mounting adhesive. Decorations are applied to clean, dry walls, where you may want to mark the installation points in advance or use guiding moldings for alignment. These guiding moldings hold the decorative elements in place until the adhesive sets. Machine-cut moldings fit together perfectly, leaving no unsightly gaps. Once the adhesive is dry, you can paint the moldings in your chosen color. They are also suitable for spackling and can be covered with other finishing coatings that do not contain solvents.
When it comes to creating decorative elements of complex shapes, speed, and efficiency, CNC technology, like the LYNX TERMCUT U thermal plotter, is your go-to solution. Find out how you can streamline your work processes with CNC technology by configuring your foam cutter or contacting us for more information.