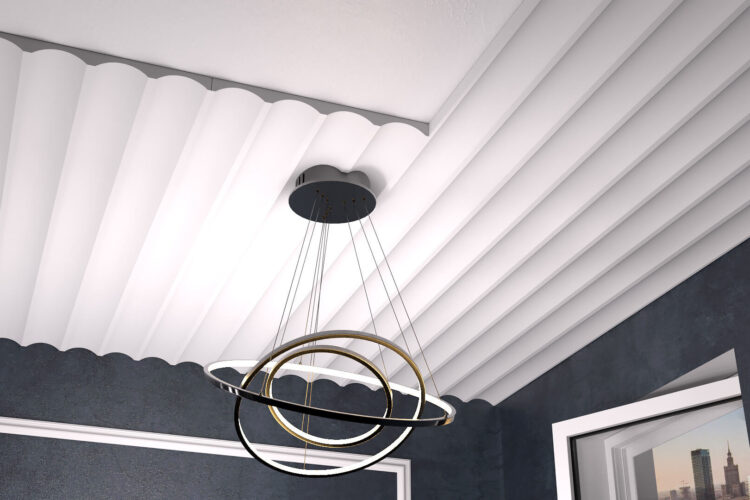 The interior decorative moldings and claddings are experiencing a renaissance nowadays. The diversity of decorations made from extruded polystyrene, including wall, ceiling, and baseboard moldings, allows them to complement any interior design. These moldings break the monotony of plain walls, emphasize style and originality of spaces, conceal structural elements and installations, and visually expand the room..
Decorative Moldings for Different Types of Interiors
A combination of interconnected elements forming a three-dimensional decor can serve various purposes. They create an illusion of expanded space, conceal installations, or hide defects such as cracks and imperfections. Polystyrene stucco can take on any shape, enabling their installation even on uneven and curved walls. With a wide array of ornaments available, you can easily match them to different interior styles.
Why Choose Decorative Moldings Made with Polystyrene?
One of the most popular materials used in crafting interior moldings is extruded polystyrene (XPS) foam. This sturdy, durable, and lightweight material allows for the creation of cost-effective decors with excellent insulating properties. XPS moldings have low absorbency and are resistant to moisture, making them suitable for bathrooms, kitchens, and laundry rooms. Extruded polystyrene moldings are easy to install and do not deform upon impact. Moreover, styrofoam is recyclable, making it environmentally friendly and safe for all residents.
Another advantage of polystyrene interior moldings is that they can be painted in any color. It is only important to choose solvent-free paint to prevent material dissolution. Recently, it has been popular to match the color to the same or a similar shade as the walls. However, if you prefer contrasts, the only limit is your imagination.
Choosing the Right Size for Decorative Moldings
Interior moldings should enhance the room's attributes rather than overwhelm it. When selecting moldings, adhere to the "less is more" rule to avoid overpowering the interior. It's best to choose moldings proportionate to the room's size. In rooms with low ceilings or sloping angles, narrow and subtle moldings work well. For spacious areas with high ceilings or bright living rooms, you can opt for wide, heavily ornamented cornices and intricately carved moldings.
Today, thanks to easy access to CNC technology and hot wire foam cutters, you can effortlessly design and cut moldings with your desired patterns. By choosing to design and trim your moldings independently, you not only get elements tailored to your individual style but also reduce waiting time for finishing materials and project execution. You receive a product ready for installation, requiring no further trimming. This allows for optimal material utilization, waste reduction, and budget savings.
Production of Decorative Moldings from Extruded Polystyrene
To ensure that interior moldings are durable and perfectly prepared, use a professional CNC cutting machine such as the LYNX TERMCUT U foam cutter. This versatile cutter features a two-arm construction and a intuitive operating system. The LYNX TERMCUT U is user-friendly and highly precise – it can cut even the most intricate ornaments and details with the utmost accuracy. The cutter is controlled by software, which not only allows you to create vector graphics but also send data to the CNC machine and automatically arrange elements on the material to minimize waste.
Step-by-Step Guide to Cutting XPS Foam Moldings
Start by preparing the machine and the project. You can create the decor design either in the LYNX TERMCUT U software or import it from an external database. Save the prepared graphic in the device's memory to conveniently and quickly use it in future tasks.
To cut decorative moldings, the device employs a heated wire, a cutting tool that guarantees hours of uninterrupted and precise cutting. Once the wire is in place, spread the material at the machine's base and position it in the starting cutting position.
The LYNX TERMCUT U foam cutter is the only machine on the market that shortens the decorative molding preparation process. It allows you to choose cutting parameters from a drop-down list in the software. After configuring the device, commence cutting. Upon completion, remove the cut elements. For multiple cuts of identical decorations, load new material for processing and restart the machine. Modify cutter settings only when changing the molding design.
Choosing the Right Moldings for Any Interior
The choice of molding type and style depends on the desired effect. Crown moldings will hide curtain rods and create a cozier atmosphere, while baseboard moldings protect walls from dirt and conceal wires. Using our plotter, you can also create wall moldings, ceiling moldings, and decorative claddings that can be seamlessly combined to craft unique compositions.
Discover the endless possibilities of polystyrerne moldings to revitalize your interiors. Whether it's visually expanding your space, adding charm or concealing structural elements, these moldings are the ideal choice. With easy access to CNC cutters, you can effortlessly design and craft customized moldings, reducing waste and enhancing your budget efficiency. Explore the world of decorative moldings today and breathe new life into your spaces.
If you want to learn more about the potential of CNC hot wire cutting machines in the production of decorative elements, contact us, and we'll help you find the best CNC machine for your needs or configure one yourself using our custom tool.