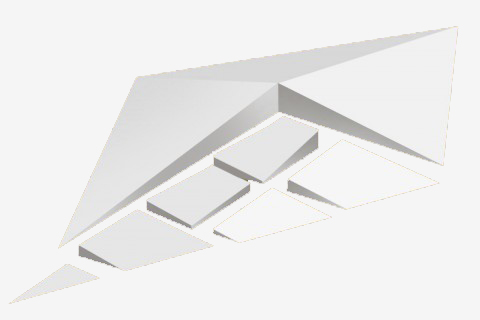 Styrofoam roof slopes are commonly used in buildings with flat roofs to facilitate the installation of insulation boards at the proper angle and create a slope that ensures proper water drainage. These roof slopes help shape the pitch on the roof's surface without the need for complex structural adjustments. They provide a convenient and cost-effective solution compared to forming slopes directly within the building's construction. Additionally, styrofoam or mineral wool layers act as both thermal and acoustic insulation, prevent dust accumulation, and resist the corrosive effects of microorganisms.
Types of Roof Slopes
To achieve the appropriate slope on a flat roof, various structural elements are employed. Roof wedges, also known as tapereds, are used for thermal insulation and water drainage systems on roofs and in building corners. These wedges come in different thicknesses, depending on whether their primary purpose is thermal insulation or creating a slope. They are used at areas where roofing layers meet elements protruding above the roof's surface, such as chimneys, skylights, or roof windows, as they also prevent bending of the roofing material during installation. Their shape allows for a smooth transition from horizontal to vertical elements.
Roof slopes are boards with single- or double-sided slopes designed to shape thermal insulation slopes. They redirect water to roof gutters or drainage outlets. Using roof slopes eliminates transverse and longitudinal thermal bridges, making it easier to install roof coverings.
Materials for Roof Slopes
Roof slopes and wedges can be manufactured using either styrofoam or mineral wool. Both materials are fire-resistant, thermally insulating, moisture-resistant, and durable. Their insulating properties remain unaffected over time and under harsh weather conditions. Moreover, they exhibit high resistance to deformation and compression.
Styrofoam Roof Slopes
Styrofoam roof slopes are crafted from a specific type of styrofoam known as sloping styrofoam, which is cut into sloped blocks. The material is lightweight, thus not adding extra load to the structure. Styrofoam roof slopes are easy to work with and allow for the creation of relatively steep slopes, up to 5%. In comparison, traditional slopes made of concrete or styro-concrete typically have slopes of no more than 1%. They are also considerably heavier and require more labor. Styrofoam roof slopes are used for thermal insulation and water drainage on flat roofs and in green roofs, inverted roofs, or terraces.
Key Advantages of Styrofoam Roof Slopes:
Quick and easy installation.
Durability.
Versatility.
Lightweight, minimizing structural stress.
Resistance to pressure and weather conditions.
Minimal deformation.
Customizable to project requirements.
Producing Roof Slopes from Stryrofoam
By cutting roof slopes and wedges on your own, you can produce them precisely to fit the specific building's dimensions. You can design and adjust them to match the roof project's requirements, reducing project timelines and material waste. Furthermore, you can avoid the need for on-site adjustments during installation.
For efficient and accurate cutting of shape slopes and wedges, consider using a thermal plotter like the LYNX TERMCUT U. This user-friendly CNC cutter is equipped with versatile software that allows you to control the entire process, from design preparation to cutting parameters, and machine operation.
Cutting Roof Slopes with a Thermal Plotter
Start by designing the desired shape in the foam cutting machine software or importing vector graphics. Save your project for easy retrieval. Arrange elements efficiently to optimize material usage. Convert and send the data with one click. Ensure the cutting wire is installed, and you can begin the cutting process. Cutting parameters are available in a drop-down list; simply select the appropriate parameters and start the plotter. The software's automatic data conversion allows you to send instructions to the machine easily, providing intuitive plotter control.
Custom-cutting roof slopes to fit precise dimensions ensures they meet individual project requirements. If you want to learn more about the benefits of thermal plotters or need assistance in selecting the right CNC machine for your needs, use our configurator or contact our team. In addition to software and accessories, we provide essential training to help you make the most of your CNC equipment.