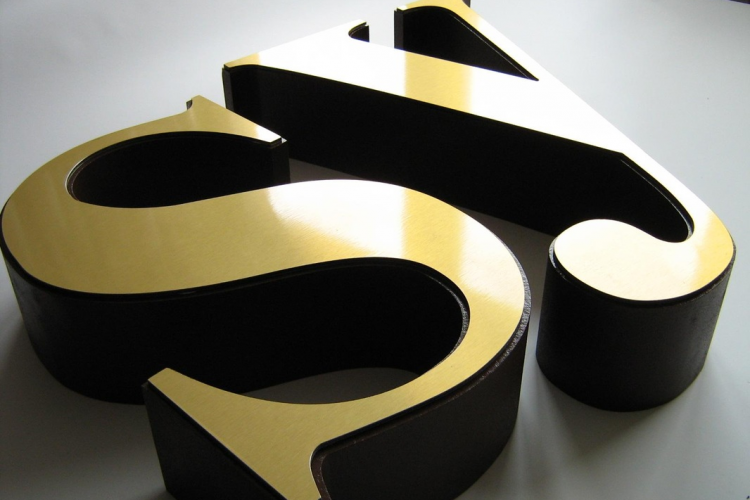 Polystyrene logos and sign boards are cutted in 3D which make them eye-catching elements for both outdoor and indoor advertising. The unconventional form has a greater chance of grabbing the attention of potential customers, boosting brand visibility, and ultimately driving sales. The adage that "advertising is the lifeblood of business" isn't just a cliché; it's a principle followed by established entrepreneurs across various market sectors.
Logos, Signs and Letters in Advertising
Extruded polystyrene  (XPS foam) is lightweight, durable, damage-resistant, and impervious to moisture absorption. Thanks to these properties, it can be mounted on different surfaces at any height, both indoors and outdoors. Shapes cut using a hot wire cutter can come in various sizes, thicknesses, shapes, and embellishments. Due to their lightweight nature, you can affix them with ease to walls, facades, glass doors, or plexiglass partitions. These types of advertisements can also take the form of freestanding installations, perfect for storefronts, hallways, conference rooms, or office spaces.
Letters Carved in XPS Foam as a Visual Identity
Letters that align with your brand's visual identity can also serve as interior decor elements within your office space. They accentuate and solidify the significance of your logo when displayed in common areas and meeting spaces, such as the lobby, conference rooms, or reception desk. Alternatively, you may want to convey more than just your logo – using three-dimensional letters to display a motto or company values on the walls can emphasize what matters to you and your team. Office spaces, halls, and common areas arranged in this manner can become a key component of your employer branding strategy.
Cost-Effective Outdoor Advertising with Polystyrne Logos
XPS foam-cutted signboatds or logos can also be used for outdoor advertising. When placed above the entrance and properly illuminated, they become a striking emblem and a clear identifier for potential customers. By incorporating these elements into your building's facade, you can seamlessly blend them with the overall architectural style or create contrasts through extraordinary shapes and colors. Thanks to the material's lightweight properties, you can mount them at any height, and the ease of carving diverse shapes means your only limit is imagination.
Polystyrene Letters: Not Just for Advertising, but Also for Home Decor
If you're looking for an unconventional interior decor for home space, consider the possibilities offered by XPS foam. Just as in advertising, use letters to convey what matters to you: place your favorite motto on the wall or greet guests with a welcoming word. You can also feature symbols dear to your heart or enhance the interior style with decorative moldings. Polystyrene elements can be easily glued, arranged, painted, or covered with various finishing coatings, offering endless opportunities for creativity and personalization.
Cutting Polystyrene Logos, Sings and Letters
Extruded polystyrene is a resilient and weather-resistant foam that offers limitless processing capabilities – from gluing to spackling and painting. To cut and carve intricate shapes or produce a series of identical signs, you can rely on a CNC hot wire cutting machine like the LYNX TERMCUT A60. These highly precise CNC cutting machines come equipped with intuitive software and are user-friendly. They allow you to sketch your design, transfer data to the machine's operating memory, and set cutter parameters, automatically arranging elements on the material.
So, how do you cut letters and logos from XPS foam? Begin by preparing your design. You can create a vector graphic, which serves as the machine's cutting guide, either in the LYNX TERMCUT A60 software or import file previoulsy designed file. If you save your design to the database, you can easily access it for future projects – a convenient feature that streamlines your work is available in our software.
Once your design is ready, prepare the material for cutting. The program will automatically convert the necessary data for the plotter. When this process is complete, you can commence cutting 3D elements from XPS. The CNC machine is equipped with a precise wire that ensures long-lasting and efficient operation. Once the wire is set up in the plotter, simply position the material at the cutter's base, set it in the desired cutting position, and initiate the cutting process. Afterward, remove the cut elements.
Plotter devices like the LYNX TERMCUT A60 allow you to efficiently produce multiple letters and logos with the same shape. In such cases, simply load new material for processing and run the machine again. Plotter settings are modified only when changing the cutting design.
These well-prepared three-dimensional advertising components are durable and resilient. You can enhance their durability by painting them with weather-resistant acrylic-latex enamels. Not only does this extend their lifespan, but it also provides virtually limitless color options. Additionally, the low cost of materials allows for large-scale projects even on a modest budget.
Whether you're in the business of producing advertisements or creating scenic elements, or if you deliver or use custom-cut 3D elements, explore how a CNC cutter can simplify and expedite your daily tasks. Contact us, and we'll help tailor a plotter to your individual needs and even the most ambitious requirements.